Nel cuore della Toscana - In the earth of Tuscany
La Sorgente si trova nel cuore della Toscana, nel bel mezzo tra Pisa e Volterra.
Puoi raggiungere con facilità le più importanti città d'arte toscane come Firenze, Pisa, Volterra, Siena, Lucca, San Gimignano o goderti giornate al mare sull'affascinante costa tirrenica.
Se tutto questo girovagare ti ha messo stanchezza puoi optare per località termali come i bagni di Pisa a San Giuliano Terme e le terme di Casciana.
Cosa ti offre il territorio?
- Aziende vinicole e piccoli produzioni a conduzione familiare
- Percorsi naturalistici per passeggiate a piedi, in bici o a cavallo
- Corsi di cucina
- Tour in Vespa
- Caccia al tartufo
La Sorgente is located in the heart of Tuscany, in the middle between Pisa and Volterra.
You can easily reach the most important Tuscan cities of art such as Florence, Pisa, Volterra, Siena, Lucca, San Gimignano or enjoy days by the sea on the fascinating Tyrrhenian coast.
If all this wandering has made you tired, you can opt for spa resorts such as the Pisa baths in San Giuliano Terme and the Casciana spa.
What does the area offer you?
- Wineries and small family
-run productions
- Nature trails for walking, cycling or horse riding
- Cooking classes
- Vespa tours
- Truffle hunting
Appartamenti - Apartments
Puoi scegliere tra nove appartamenti monolocali, bilocali e trilocali ristrutturati seguendo lo stile delle tipiche case di campagna.
Ogni alloggio è composto da camere, soggiorno, cucina, giardino con terrazza privata esterna.
Dotati di comfort come: aria condizionata e riscaldamento indipendente, connessione wi-fi e barbecue.
Goditi le due ampie piscine di cui una a misura di bambino, il campo da calcetto e tennis, il servizio bar - ristorante, tutto a pochi passi dagli alloggi per un soggiorno rilassante e senza stress.
Sentiti libero di chiederci consigli e suggerimenti su itinerari in base ai tuoi gusti per farti vivere giorni che non dimenticherai facilmente.
You can choose from nine one-room, two-room and three-room apartments renovated in the style of typical country houses.
Each accommodation consists of bedrooms, living room, kitchen, garden with private outdoor terrace.
Equipped with comforts such as: independent air conditioning and heating, wi-fi connection and barbecue.
Enjoy the two large swimming pools, one of which is suitable for children, the soccer field and tennis court, the bar - restaurant service, all just a few steps away from the accommodation for a relaxing and stress-free stay.
Feel free to ask us for advice and suggestions on itineraries based on your tastes to make you live days you won't soon forget.
Il Ristorante tipico toscano - The typical Tuscan restaurant
Nel cuore della struttura si trova il ristorante con brace ideale per gustare un'ottima tagliata o bistecca fiorentina, gestito dalla nostra famiglia.
Ingredienti essenziali della cucina sono la freschezza delle materie prime, le lente cotture, il rapporto con le aziende del territorio e la voglia di farvi passare piacevoli momenti attraverso i sapori e l'atmosfera familiare.
Sara, super appassionata di tutto ciò che è dolce è la nostra pasticcera.
Diplomata all'ALMA di Gualtiero Marchesi si occupa della preparazione della pasta fresca, la creazione di dessert, torte e la piccola pasticceria.
Per accompagnare i piatti potrai scegliere dalla nostra carta dei vini, focalizzata su cantine del territorio delle Terre di Pisa e altri areali toscani come Bolgheri e San Gimignano.
Insieme a mamma Manuela e al resto dello staff ci occuperemo di farvi passare momenti speciali.
Nel periodo autunno e inverno puoi goderti l'atmosfera delle sale interne,
mentre nel periodo estivo: pranzi e cene sono serviti nella veranda esterna e nel giardino con vista piscina.
In the heart of the structure is the restaurant with embers, ideal for enjoying an excellent cut or Florentine steak, managed by our family.
The essential ingredients of the kitchen are the freshness of the raw materials, the slow cooking, the relationship with the companies in the area and the desire to let you spend pleasant moments through the flavors and the family atmosphere.
Sara, super passionate about everything sweet is our pastry chef.
She graduated from Gualtiero Marchesi's ALMA and deals with the preparation of fresh pasta, the creation of desserts, cakes and small pastries.
To accompany the dishes you can choose from our wine list, focused on wineries in the Terre di Pisa area and other Tuscan areas such as Bolgheri and San Gimignano.
Together with mum Manuela and the rest of the staff, we will take care of making you spend special moments.
In the autumn and winter you can enjoy the atmosphere of the internal rooms,
while in the summer: lunches and dinners are served on the external veranda and in the garden overlooking the swimming pool.
L'ospitalità: Sentirsi parte della famiglia - Hospitality: Feeling part of the family
Durante il periodo estivo puoi scegliere tra varie iniziative per una vacanza al massimo!
Uno spritz a bordo piscina?
L'aperitivo della domenica pomeriggio nell'area lounge e per i più piccoli bevande analcoliche e assaggi del territorio.
Un momento per socializzare e fare nuove conoscenze
Scopri i prodotti che coltiviamo nell'orto biologico.
A seconda delle stagioni puoi assaggiare vari ortaggi freschi di raccolta con ricette semplici.
Un modo alternativo per familiarizzare anche i più piccoli
a mangiare sano e bene.
Nel ristorante è allestito uno shop dove puoi acquistare prodotti tipici delle terre di Pisa.
Dal vino alle confetture fatte in casa,
dalla pasta artigianale ai sott'oli,
per passare al limoncello e grappa.
During the summer you can choose from various initiatives for a holiday to the fullest!
A spritz by the pool?
Sunday afternoon aperitif in the lounge area and for the little ones soft drinks and local tastings.
A moment to socialize and make new acquaintances. Discover the products we grow in the organic garden.
Depending on the season you can taste various freshly harvested vegetables with simple recipes.
An alternative way to familiarize even the little ones with eating healthily and well.
A shop is set up in the restaurant where you can buy typical products from the lands of Pisa.
From wine to home-made jams, from artisanal pasta to pickles, to limoncello and grappa.
La storia di una famiglia - The story of a family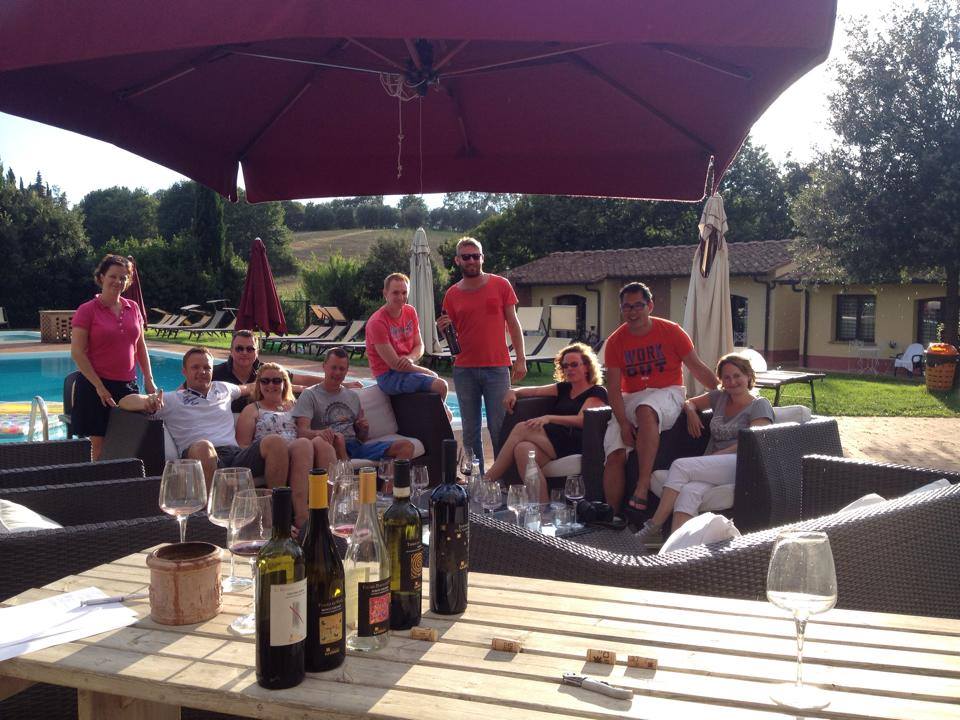 C'era una volta un signore con un sogno, ne aveva affrontate tante di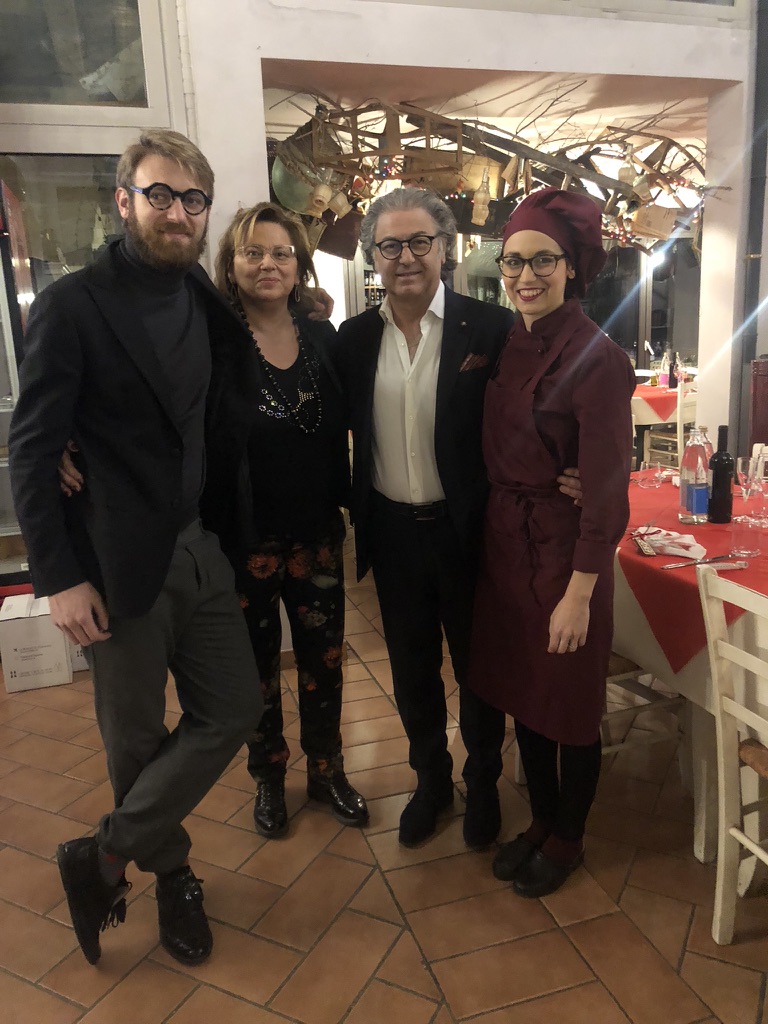 avventure nel corso della sua vita. Aveva contribuito allo sviluppo del suo territorio,
un pallino gli era rimasto ancora in testa, un terreno che aveva a due passi da casa, doveva trasformarsi in qualcosa di ancora più bello.
Insieme a suo genero Michele e qualche amico tra una chiacchierata e l'altra cominciò a nascere il sogno chiamato "La Sorgente",
io come nipote ricordo ancora uno di quei pomeriggi passati nel perlustrare l'area, correre libero insieme a mia sorella Sara in mezzo a quei campi di grano.
A contribuire al progetto la mano del fratello del tenore Andrea Bocelli, nato a pochi passi da qua da architetto ha ideato l'intera struttura. In una giornata piovosa dell'ottobre 2003,
ci onorò della presenza il grande Andrea Bocelli, e da lì iniziò l'avventura che ad oggi con grande soddisfazione ha visto passare migliaia di persone
da tutto il mondo nei nostri appartamenti alla scoperta della nostra meravigliosa terra.
L'ambiente familiare si respira in ogni momento della giornata, viviamo la struttura come se fosse casa nostra.
Potrete ancora trovare il vecchio Nando aggirarsi per vedere che tutto vada bene, Gioele e Sara, si occuperanno di accogliervi, farvi mangiare e bere prodotti locali.
Mamma Manuela, avrà sempre una risata pronta per voi.
Once upon a time there was a gentleman with a dream, he had faced many adventures in the course of his life.
He had contributed to the development of his territory, a dot was still left in his head, a piece of land that he had a stone's throw from home, had to be transformed into something even more beautiful.
Together with his son-in-law Michele and a few friends, between one chat and another, the dream called "La Sorgente" began to be born. As a nephew, I still remember one of those afternoons spent scouring the area, running free together with my sister Sara in among those cornfields.
The hand of the brother of the tenor Andrea Bocelli, born a few steps from here, as an architect who designed the entire structure contributed to the project.
On a rainy day in October 2003, the great Andrea Bocelli graced us with his presence, and from there began the adventure which to this day has seen thousands of people from all over the world pass by with great satisfaction in our apartments to discover our wonderful land .
The family atmosphere is breathed in every moment of the day, we live the structure as if it were our home.
You can still find the old Nando wandering around to see that everything is going well, Gioele and Sara will take care of welcoming you, making you eat and drink local products.
Mamma Manuela, she will always have a laugh ready for you.
Pet friendly
Sentiti libero di portare con te il tuo amico a quattro zampe.
Avrà a disposizione ampi spazi verdi del giardino e della pineta.
Feel free to bring your four-legged friend with you. He will have at his disposal large green spaces in the garden and in the pine forest.